Things I Think Are Awesome #11: Carved Protection and Bullshit Studies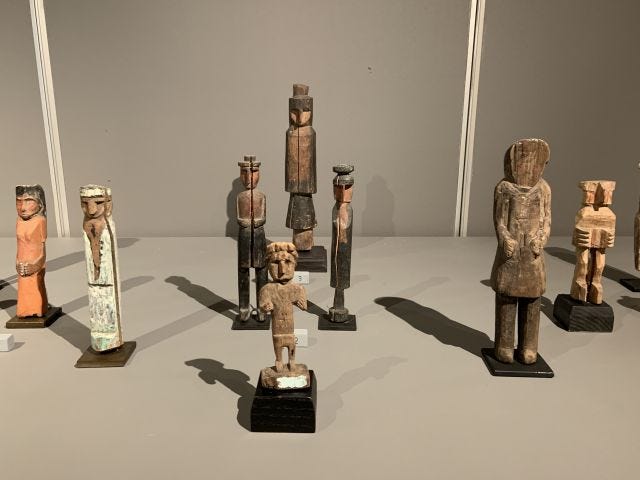 (Caption: Carved Nudsu figures at the exhibit of Nudsu and Molas in Brive La Gaillard this summer.)

The photo above was taken on a rainy day at the Labenche Museum in Brive La Gaillard during my August travels.  They had a fantastic special exhibit of Panamanian/Colombian Guna (or Kuna) indigeneous art, carved nudsu figures made by men and the (better known, for sale on ebay etc) mola quilted textiles made by women.  The wooden figures are used in healing ceremonies and as protective figures in households, according to the exhibit. Each family member has their own figure or figures as protector and the figure acts as an intermediary to the spirit world for a shaman in healing rituals. They are intentionally spare and under-defined. "What's in the wood is as powerful as the external silhouette," said writer JMG Le Clézio about their art (my translation).
 
AI / Art / ProcGen

Ten Years of Procedural Novels:  I enjoyed Aaron Reed's talk at the Roguelike Celebration, which was a retrospective on his interactive fiction and procedural narrative work.  Years of lessons here and a great overview of his work.  I finally read his latest proc gen novel, which I review below!

This is a super article by Kyle Huang on computational creativity support, illustrated using StyleGANs (and style transfer) for character design. The thesis here is that we can use machines to help generate ideas, explore a space using ambiguity and low-fidelity as positive evocative features, and then humans can develop and refine after choosing directions they like.  





"Bullshit Makes the Art Grow Profounder": Academic study finds that people think an artwork is more profound if it has a bullshitty profound title rather than a mundane title (e.g., "Concept 3") or no title. The finding held for both artist-created artwork and computer generated artwork.   The bullshit titles were all generated using the site Abstract Art Title Generator, which does things like this: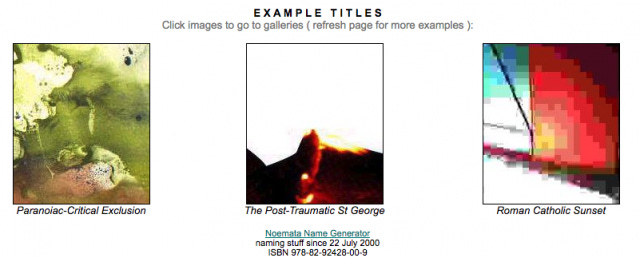 The finding showed a correlation between subjects' ratings of "International Art English" language as profound and the rating of the bullshit titles as profound. 

On International Art English, they say:
International Art English (IAE) refers to a language used by many artists and artistic scholars to discuss art (Rule & Levine, 2012). Its key features include converting verbs and adjectives into nouns (e.g., potential to potentiality), the pairing of like terms (e.g., internal psychology and external reality), and hard-to-picture spatial metaphors (e.g., culmination of many small acts achieves mythic proportions).
Examples from art critics and reviews that they used in this study:
"Testing the diminishing boundaries between our bodies and a world in which virtuality is ubiquitous and surreality is increasingly normalized."

"Each mirror imaginatively propels its viewer forward into the seemingly infinite progression of possible reproductions that the artist's practice engenders."

 "Aesthetic Error is a group of sculptural works that aims at a void that signifies precisely the non-being of what it represents. Because nothing so testifies to an artist's lack of genius as resorting to allegory."

I guess the takeaway is to use profound-sounding titles on your art in order to better convince your audience you are a Serious Artist and not just a generative hack.  And worth spending money on, if you are trying to sell your work.  I do wonder about simply a poetic or evocatively descriptive title, rather than bullshit or mundanity.  Then we might be in a more symbiotic space with text and image working together.  (I think this is something Helena Sarin / @glagolista has opinions on.) 
 
Short Tech Links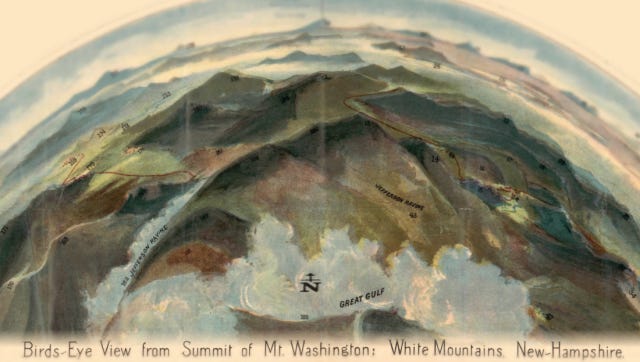 Books
(Fantasy) Naomi Novik's latest, A Deadly Education, is a light, humorous YA novel about a teen girl trying to survive a magic school infested with monstrous things trying to kill all the students.  Our heroine's foretold destiny is to become an evil sorcerous, but she is gamely trying to resist her fate.  She is largely bad-tempered to everyone around her but learns to lighten up a bit.
 
(Thriller?/Fantasy?) In other creepy schools, Catherine House sure is cult-like.  There is a weird curriculum and a "no visits home" policy, plus mandatory meditation (or hypnosis?) sessions with a robotic headmistress.  What is the strange specialization in biological material called "plasm" which no one will talk about, even the kids allowed to study it?  Your  lethargic, lazy, but still partying-hard heroine wants to know.  Page turner, but YMMV.

(Fantasy/Thriller) Finally, to round out the creepy cults, in The Lightness, a teenager runs away to join a Buddhist camp for bad girls, where her father disappeared, and falls in with a small mean group determined to learn to levitate, at all costs.  A bit reminiscent of Tana French's The Secret Place but way preachier?  Less recommended, but still resonant afterwards.  Lots of Buddhist anecdotes. And too much ominous foreshadowing. YMMV again, go for it if you like mean girl camp stories.

(Mystery/Dream-crusher) Speaking of Tana French, her new mystery The Searcher will discourage you from ever retiring to Ireland to hang with eccentric locals at the pub while fixing up that romantic farm ruin.  Atmospheric and a bit grim. Our retired cop hero helps a local kid find out what happened to a missing older brother.

(Mystery/Fantasy) In other mysteries that are fantastical, The 7 1/2 Deaths of Evelyn Hardcastle by Stuart Turton features an amnesiac main character living the same day over and over at a creepy mansion, in the bodies of different unpleasant guests, trying to solve a "murder that doesn't look like a murder."  There are strange supernatural beings trying to help him or stop him.  It only gets weirder from there, and doesn't end entirely explained. I still liked it enough to want to try his new book, the Devil and the Dark Water.

(Fantasy/Horror) More fantastical, and continuing in the parallel worlds theme from last month, I finally read Aaron Reed's Subcutanean!   This is a novel in which no 2 copies are identical, differing in minor (and sometimes major) ways via procedural code Aaron wrote to help construct it.  It reads as a normal book, and a good one, about 2 friends who explore the branching rooms and worlds they discover under their college house.
 
TV

It's been a fitful month of TV, with not a ton of awesome viewing.  Help!

I finally watched season 1 of 3% on Netflix and quite liked it.  (It's available dubbed into English from Brazilian Portuguese.) This is an sf/f show about the rich living in privilege on an offshore island, and a competition called "The Process" to determine which of the the mainland's destitute young will get sent over.  It's got a vibe of Hunger Games and Divergent; there are group and individual "challenges" to test their qualifications.  A secret rebellion has sent at least one infiltrator to try to take them down from within, and the guy running the show has his own secrets and scandals.  (Can anyone recommend the other seasons?)

I enjoyed Haunting of Bly Manor on Netflix, which is loosely based on Turn of the Screw; but it's quite prone to over-explain in comparison to how I usually like my ghost stories.  Still, 2 of the love stories were very sweet and it's the right kind of creepy for the season.  In other creepy, I did enjoy Lovecraft Country on HBO all the way to the end. 

 
Recipe
I liked this NYT article on the messiness of galettes: "It's a Hellscape Out There, Try a Galette."  In the past month, I have twice made pear and chestnut galettes, using this gf recipe for the dough.  Pears are under-rated, and I will never be judgy about chestnut prices again.  They're worth it.  (My galette just uses chestnut crream spread thin on the crust, slices of pears and chunks of chestnut, a sprinkle of cinnamon/cloves, and a spritz of Armagnac on top because I follow Kate Hill on Instagram and have bought her Gascony cookbook.)

 
Poem: Immortal Autumn

I speak this poem now with grave and level voice   
In praise of autumn, of the far-horn-winding fall.

I praise the flower-barren fields, the clouds, the tall   
Unanswering branches where the wind makes sullen noise.

I praise the fall: it is the human season.
                                                                 Now
No more the foreign sun does meddle at our earth,   
Enforce the green and bring the fallow land to birth,   
Nor winter yet weigh all with silence the pine bough,

But now in autumn with the black and outcast crows   
Share we the spacious world: the whispering year is gone:   
There is more room to live now: the once secret dawn   
Comes late by daylight and the dark unguarded goes.

Between the mutinous brave burning of the leaves   
And winter's covering of our hearts with his deep snow   
We are alone: there are no evening birds: we know   
The naked moon: the tame stars circle at our eaves.

It is the human season. On this sterile air
Do words outcarry breath: the sound goes on and on.   
I hear a dead man's cry from autumn long since gone.

I cry to you beyond upon this bitter air.

--Archibald MacLeish

(FYI, the NYT did a nice illustrated multi-media poem about the current season, by John Hermann.)


Drop me a line if you like this.  Happy Halloween season, and may next month bring some hope,
Lynn