Things I Think Are Awesome #13: VR and a New Year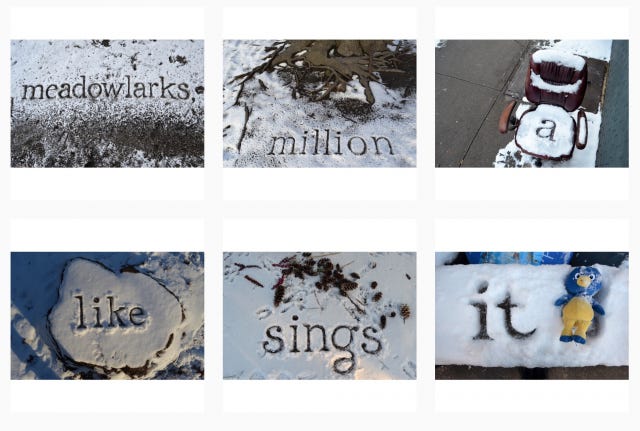 From Shelley Jackson's Instagram of her snow poem.

I mused on ephemeral art (James Brunt's leaf patterns in the forest, for instance) in the last edition, and then saw this on Twitter: "The Only Good Thing About Winter is This Story Written in Snow."  Since NY got some snow, there has been more progress in Shelley Jackson's snow writing.
Creativity & Tech Links

The Blob Opera, by David Li (sponsored by Google Arts & Culture, where I consult), is adorable.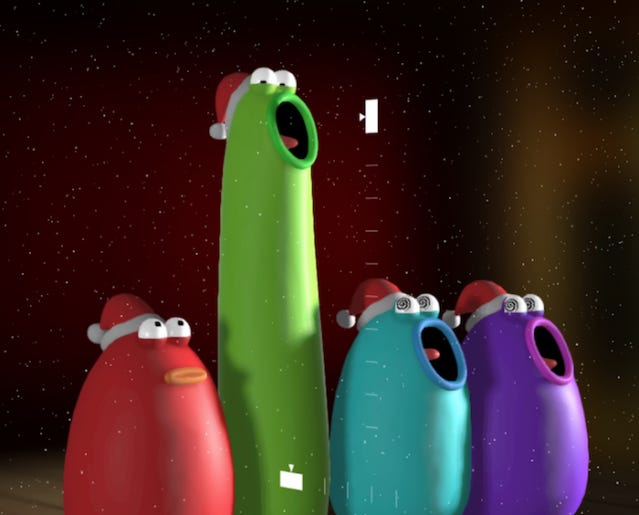 Procjam 2020 has some great toy and game generators.  There's a furniture generator by MinimalOcean with controls for how many decorations, beds, lamps, etc you want.  You can't have too many lights in winter of 2020. I paid for it; artists that make me laugh are worth $. There's also a Tom Gauld comic figures generator by the inimitable watabou, famous for many map and building generators.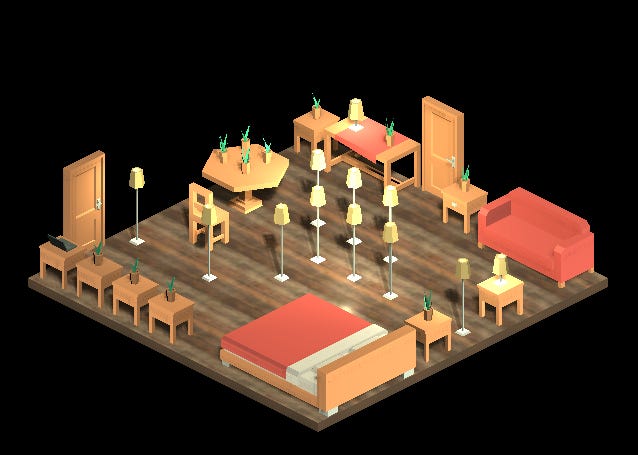 I've been seeing a bunch of good articles on the economics of creativity.  A couple by Li Jin: Building the Middle Class of the Creator Economy (in HBR originally), her 1000 True Fans? Try 100, and Josephine Livingstone's Monopolization is Killing Art.  One of the large issues, of course, is how to connect creators to fans who will pay for their work, using what platform and what recommendation system.  (All the Substack think pieces are clearly related.)

Meanwhile, I liked this article on puzzle game makers, including small companies, doing well during the pandemic.

Some misc tech links of value:

Text Analysis in Python For Social Scientists by Dirk Hovy is available free as a PDF until Dec 30 (today!). If you miss the link, the code examples are here.

This looks like a good web development course from Microsoft. (Via the excellent @omarsar0).

Maarten Lambrechts is doing his annual list of lists of the best visualizations of the year.
 
VR Diversions
I am, like everyone, going nuts stuck inside.  So I decided to attack the problem with tech (of course) and got myself a VR headset for the holidays.  I've been enjoying it a lot, despite some minor issues with fogging lenses and slipping headsets when trying sporty apps.  I've experienced more "wow!" jaw dropping moments in the past week than in the previous year of weeks combined.  Here are some observations and recs from only a few days, and not just games.

You can view Google StreetView imagery around the world, in 3D, in VR.  (The Earth VR app, which looks amazing, doesn't work with my headset yet.) I enjoy it a lot more than on a laptop.  I've "been" to Antigua, Guatemala (one of my favorite cities), Essaouira in Morocco (where I wanted to go last November but didn't buy the ticket and have been peeved at myself ever since), Edinburgh, Accra, Stonehenge, random Danish roads, downtown Paris.  And speaking of StreetView, this is a rabbit-filled island in Japan which makes cute viewing (thanks to @alykat).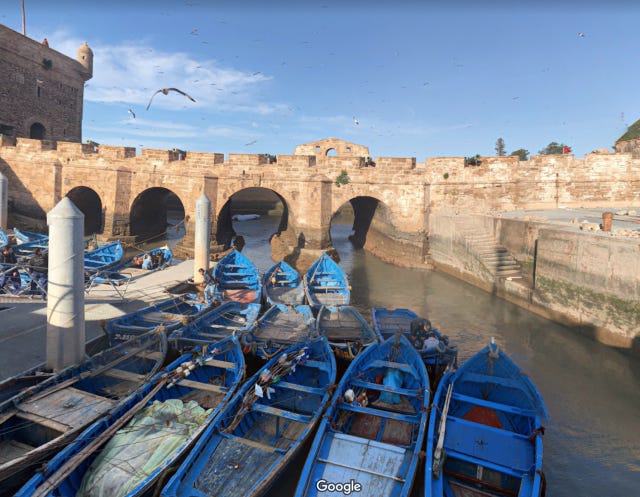 Google Streetview image of Essaouira, Morocco, by Stephen Ewashkiw


I haven't been snorkeling since moving to France, which is starting to bum me out.  I am enjoying Ocean Rift, an app where you get to "interact" with a bunch of underwater animals.  I like bobbing around the kelp and finding schools of fish, though it is weird to be able to walk thru rocks with no issues.  As in many of these apps, I do wish there were more haptic feedback when you "touch" things. 

A similar (cheap) "just explore environments" app is Nature Treks VR, where you can bop around in forests, fields, or a minimalist underwater environment, and plant things.  The wintry hills have some weird bunny rabbits and wild cats who squish themselves to the ground when you fly over them. Sadly, a tree I planted had a square trunk.  Oh well.  No Man's Sky in VR is fun for just wandering around beautiful procedurally generated alien planets, and after I figure out the really complicated VR controls I'll do more of that.

I've tried a few games too.  The Room VR is as cool as everyone says; it's a beautiful "puzzle" room piece set in (for example) a creepy archaeology lab (should we really be waking these monsters out of curiosity?!) and a Rosslyn-like chapel with hidden treasures.  If you're looking for gorgeous design ingenuity, though, I am amazed and awed by Down the Rabbit Hole, which really uses space well and is charming to boot.  It looks like A Fisherman's Tale is similarly clever and beautiful.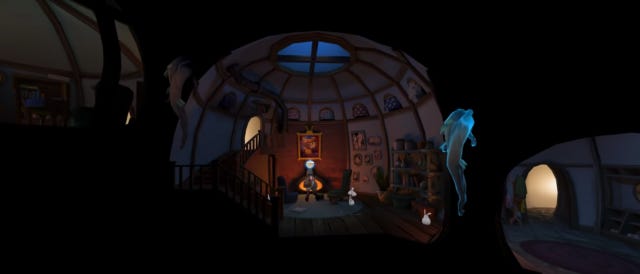 Down the Rabbit Hole UI example - you peer in little rooms and you adjust the view up and down using that blue tree root 
on the right as your character moves between sections of the game.  This view has cute baby bunnies in it.

Finally, there's some interesting 360 video content on various channels like YouTube VR and Amazon Prime VR.  I really liked this trippy Dali video and this Van Gogh Starry Night painting animation.  In these videos, you can't interact, just look around, but it's fun anyway.  
 
TV
It's been a middling month for TV.  I gobbled down The Wilds on Amazon Prime, because teen girls with drama cast away on an island is (are?) my Cheetos, apparently; but it felt manipulative and ends with more questions than answers.  OTOH, Bridgerton on Netflix was Cheetos dipped in a mature cheddar port wine sauce trying to be fancy, and I watched that in 2 nights.  Enjoyable!

I liked Deadwood season 1, despite the fact that all the women are either substance dependent or prostitutes or both.  There are enough characters who seem to be actually good people to make the gritty universe worth it.  I got distracted from it by the above-mentioned snack shows and finishing The 100, which I stuck with to the end despite finding mostly orange crumbs, crumbs making strange choices.

I am glad The Expanse is back!

I don't know what my favorite TV shows of the year were; without an app to track them, who can remember.  I think Warrior Nun was right up there.
Books
Here are the books I've given 5 stars to this year, which generally just means I couldn't put them down:



Things that deserve a special mention, I think:



Good series that I finished this year include Joel Dane's Cry Pilot military sf series, Scalzi's Collapsing Empire sf series, the Truly Devious mystery series (there might be another book but it felt mostly wrapped up?!), Dolores Redondo's Baztan Basque mystery series, the excellent sf Machineries of Empire series by Yoon Ha Lee.

If you want more professional recs, I always like the NPR Book Concierge, which exposes me to a bunch of things that I might have otherwise missed.  I look forward to it every year.
Recipes
For winter comfort, nothing beats grilled sandwiches.  Also, this red curry lentils with sweet potatoes and spinach soup is lovely (NYT recipes).  I've been making bean chili with cornbread dumplings, which is delicious: here is my base recipe but for the dumplings I grind the corn up and add some sugar, and I am not bothered about type of beans and sometimes add meat.
 
Poetry
For some good poem deep dives, I am liking Devin Kelly's substack newsletter Ordinary Plots.  And now, some wishes for our new year.
20 Blessings
May the best hour of the day be yours.
May luck go with you from hill to sea.
May you stand against the prevailing wind.
May no forest intimidate you.
May you look out from your own eyes.
May near and far attend you.
May you bathe your face in the sun's rays.
May you have milk, cream, substance.
May your actions be effective.
May your thoughts be affective.
May you will both the wild and the mild.
May you sing the lark from the sky.
May you place yourself in circumstance.
May you be surrounded by goldfinches.
May you pause among alders.
May your desire be infinite.
May what you touch be touched.
May the company be less for your leaving.
May you walk alone beneath the stars.
May your embers still glow in the morning. -- Thomas A. Clarke
    Remember, no matter how awful 2020 was, we will always have Four Seasons Total Landscaping.

All the best, Lynn