Things I Think Are Awesome #6: Artist's Studios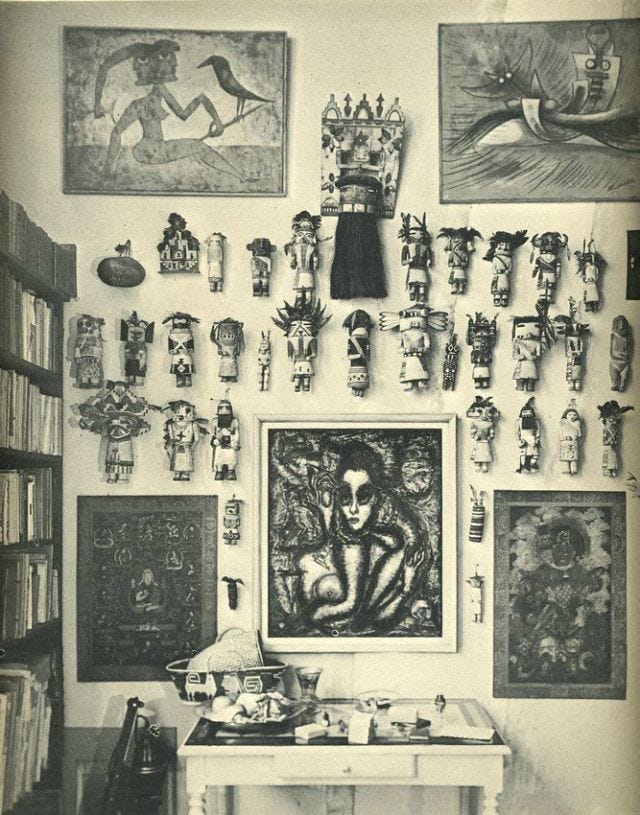 (Surrealist poet Andre Breton's studio, Sabine Weiss.)
Hello again!  I spent my month between jobs working on a personal project related to generating poetry with neural nets (VAEs).  I gave a talk about it (slides), but there's a lot more to be done on the project and the application demos, with a proper write-up.  Next week I start on contracts for Google Arts & Culture in Paris and a project on generative poetry with Kyle McDonald, and I'm also writing some tutorials for FlowingData on Python visualization.  I didn't mean this newsletter to be too much about me, but those things are awesome, too!

I did a little bit of traveling (to Paris and Mallorca), and saw some good artist's studios.  This is a re-created wall of surrealist poet Andre Breton's studio "stuff" in the Centre Pompidou in Paris:

Breton loved collecting, and his rooms look like the classic European Cabinets de Curiosités.  I recommend the website Andrebreton.fr, which offers giant resolution views of his studio collections, with mouseovers allowing you to look up what on earth each item is in their directory.  (My favorite are the set of "objets magiques.") 

The big middle painting is by Joan Miró, whose last studio I visited in Mallorca. The museum collection there is absolutely excellent as well.  (You need a taxi or bus to get to it in the hills outside Palma, but the buses are frequent and cheap.) The museum has a video about the design and construction of the studio, and in it we learn that Miró was completely creatively blocked after completion of the building -- until he decorated it with artistic objects and designs that inspired him.


I was struck again by how surrounding yourself with objects of fascination can feed your creativity, even when you can't travel to new lands for inspiration.   Buy those objets d'art!  Or tape up printouts.
 
AI and Art and Tools of Coolness
One of my favorite finds recently is wikiview.net, a visual search tool for similar images on Wikipedia.  There's a paper describing their similarity graph by Barthel et al, but apparently it began as a student project.  The web tool is super fast and fun and fascinating to play with.

I find this work on a framework for measuring what GANs don't see to be surprisingly poetic.  GANs are image generators:  But in this study, they essentially "edit out" people, cars, fences, palm trees, and signs, despite having had them in their training set.  I tried some of my own church images (I have a lot), and you can see the edits:


I was reminded of my attempt to generate poetry from image recognition with COCO - but COCO doesn't know a lot about the world and that really limits the kinds of poems possible.

Finally, if you want to get a great perspective on the role of randomness in the development of your artistic intuition in generative art, I strongly recommend this lovely interview clip from Vera Molnar shared by the MUDA (Museum of Digital Art) in Zurich.  They have an exhibit of her work on till February, which I must get to.

Truly finally, I really, really enjoy the #plottertwitter hashtag on Twitter.  Great eye candy.


Books & TV

Strong recommend to the Semiosis books (2) by Sue Burke.  Colonists fleeing a depleted Earth settle on a planet with strangely intelligent plant life, one in particular.  Generations of their collaboration with a smart bamboo will astound you.  And then a ship from Earth comes and things get messier.  I couldn't put them down.  (Also, A+ cute green alien cats.)

In TV, I've enjoyed the hell out of the latest season of Schitt's Creek, watched and was terrified by Chernobyl as a superb science fictional disaster nightmare (trigger warnings for awful repressive management and anti-science, which feel incredibly relevant in Trump America), and I thoroughly enjoyed Amazon's Carnival Row (featuring the fae as unwelcome, war-fleeing immigrants).  Also I watched Living With Yourself, the Netflix series about a new, happy, refreshed, cloned Paul Rudd, in one night.  Sometimes I want to swap in a clone.
Recipes
A new section: I made the New York Times Plum Torte 4 times this summer.  4 times.  I do it gluten-free with 2/3 almond meal and 1/3 gf flour, plus add some cardamom on top.  I also love Alison Roman's sheet pan chicken with chickpeas, but the starring here IMO is the chickpeas with onions which you can just make on their own.
A Poem
Autumn Refrain by Wallace Stevens

The skreak and skritter of evening gone 
And grackles gone and sorrows of the sun, 
The sorrows of sun, too, gone . . . the moon and moon, 
The yellow moon of words about the nightingale 
In measureless measures, not a bird for me 
But the name of a bird and the name of a nameless air 
I have never--shall never hear. And yet beneath
The stillness of everything gone, and being still, 
Being and sitting still, something resides, 
Some skreaking and skrittering residuum, 
And grates these evasions of the nightingale 
Though I have never--shall never hear that bird. 
And the stillness is in the key, all of it is, 
The stillness is all in the key of that desolate sound.
 
Thanks!
Do you like this newsletter? Drop me a +1 if so...  :)  Or say hi on Twitter: @arnicas.

Best, Lynn