Things I Think Are Awesome #7: Distractions Issue
I'm in desperate need of distraction from the Real World (or whatever messed up timeline we're in) and I'm sure I'm not alone.  This issue is devoted to going deep on distractions, so it's mostly TV and books. But first here are a few amazing pictures by Remedios Varo, an artist I discovered at the National Museum of Women in the Arts when I was in Washington, DC.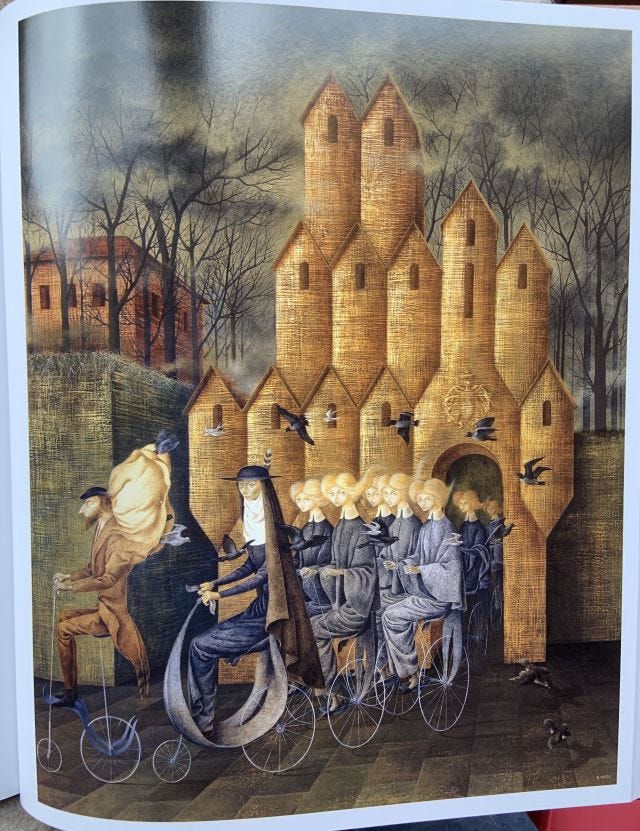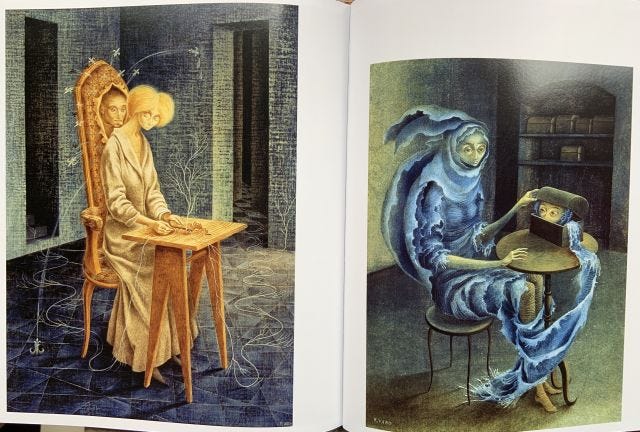 She was Catalan, but moved to Mexico to escape WW2 where she became a friend of Leonora Carrington's, another awesome mystical surrealist painter.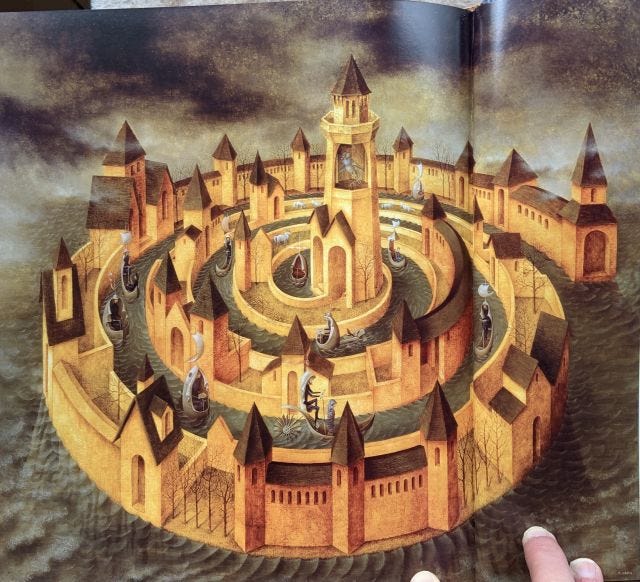 The museum had an amazing library in which one could just sit down and flip thru fantastic books of women's art.  I browsed books on Carrington and Varo and then was thrilled to be able to buy the one on Varo's Mexican years in the bookstore.
Tech Distraction
I, too, enjoyed the generative AI Dungeon, both 1 and 2.  They don't produce super stories, but it is super fun to tell a story with it.  As in, "along with it," instead of having it dictated to you.  Lots of games that are supposedly interactive feel only thinly branching, with pre-cooked options that range from "obvious" to "obviously a bad idea" to "boring but might get me more info so I can go where you want me to."  AI Dungeon can be jerked around and subverted, and even when it's dumb, it's often funny-dumb.  As a result, it feels much less like a game than a toy to be played with.  I enormously approve.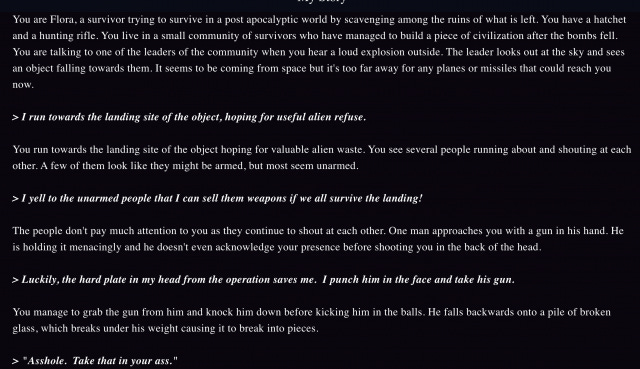 In case you're confused, the bad writing at the ">" is me, and the other bad writing is AI Dungeon.  But we're both having fun.
Books
If you like military sf, I really enjoyed Cry Pilot (and its sequel) by Joel Dane, as well as The Light Brigade by Kameron Hurley.  The latter is also an excellent time travel book, but warnings for some bleak violence.

I guess this is also military sf, although with a lot of twists on that: I finally read the last book in the Machineries of Empire series by Yoon Ha Lee, Revenant Gun, and it was excellent.  Unfortunately one giant mystery remains unresolved, but this was a great series.

In other time travel-themed books, I enjoyed both Psychology of Time Travel by Kate Mascarenhas and The Future of Another Timeline by Annalee Newitz.  The villians in these are very different.

I finally read some China Miéville (after being unaccountably afraid to)!  The City and the City is one fine piece of weird detective/political/fantasy work.  The recent TV series is also excellent, but I think leaves less of the political situation between the overlapping cities open to speculation.

In unusual-questlike-fantasy, I enjoyed the well-reviewed Gods of Jade and Shadow by Sylvia Moreno-Garcia, which is a Mayan-myth inspired kind-of dark fairy tale set in Mexico in the 1920s, beautifully written.  Another quest story, even stranger, Desdemona and the Deep by CSE Cooney was weird and wonderful and haunting and has heros and heroines you don't expect.  The gorgeous Border Keeper by Kerstin Hall shares some elements with those 2, but is altogether its own variety of strangeland, with a surprise resolution I might need to reread to entirely grasp.

For just page-turning fun, I liked the thriller/mystery The Last Time I Lied, the much-lauded The Silent Patient was twisty (but I didn't love the narrator), and An Absolutely Remarkable Thing is a funny combo of social media madness and alien invasion paranoia. (But we really need book 2.)  

For page turner YA-ish sf, the Nyxia series by Scott Reintgen was fun, featuring broke teens from around the world competing in military exercises to obtain limited get-rich-quick spots in a trip to another planet.  They don't love their commanders.
TV
I spend a lot of time trying to find binge-worthy shows.  Help a girl out if you can.

I finally watched Watchmen, and it was wackier than I expected, way different than the first couple episodes suggested, but still epic fun.  

In even wackier superhero takeoffs, season 3 of Legion was a surreal, drugged out, jaw-open, wtf season.  I still enjoyed it and was not bored once.  Strongly recommend this whole show if you are tired of the same old super heroes. And  you like time travel.

Season 1 of Castle Rock on Hulu was very good, with some troubling moral questions and decisions.  (I'm a little afraid of season 2.  But will try it eventually.)

Sex Education on Netflix was funny and touching.  Lost in Space season 2 started a little slowly but picked up and went out in full alien robot excitement mode!  The Witcher was just fantastic.
Recipes
When I wanted something soothing recently, I made a Red Thai Curry Chicken Soup.  I apologize for the annoying recipe link with product placement in it, I can't seem to find a better recipe to link to.  

Simple cheer: Eat a mandarin or clementine.  Just the smell will perk you up a bit!  And that's my Goop moment.
 
Poem
pity this busy monster, manunkind,

not. Progress is a comfortable disease:
your victim (death and life safely beyond)

plays with the bigness of his littleness
--- electrons deify one razorblade
into a mountainrange; lenses extend
unwish through curving wherewhen till unwish
returns on its unself.
                          A world of made
is not a world of born --- pity poor flesh

and trees, poor stars and stones, but never this
fine specimen of hypermagical

ultraomnipotence. We doctors know

a hopeless case if --- listen: there's a hell
of a good universe next door; let's go

e. e. cummings


Stay socially connected and well-distracted; here are virtual hugs if you need them.
Lynn