Things I Think Are Awesome #8: Castles and More Escapism.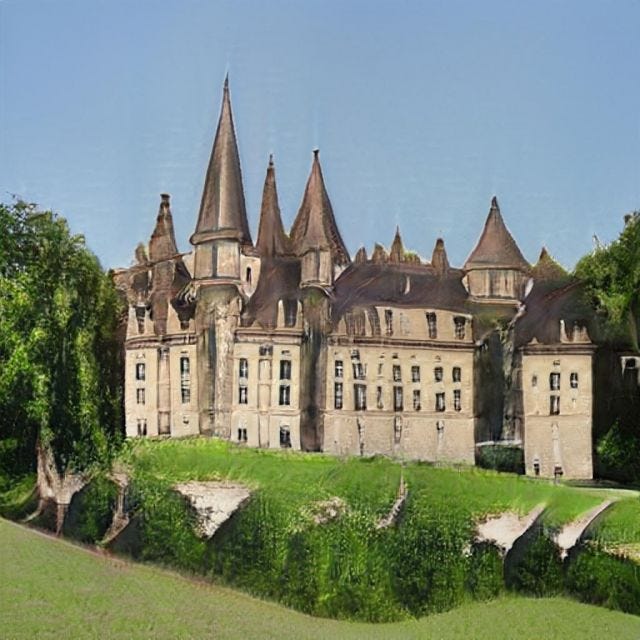 (Caption: A castle I generated with the AI model StyleGAN2 trained on French castle pictures. This castle does not exist, 
but it's like a lot of other French châteaux, combined.)

Every time I try to write this, I stall at listing what's awesome in the shadow of the mountain of how much is not awesome right now.  But I feel like I need to push past that because some folks' newsletters have been cheering me up; maybe I can return the favor with some more recommendations.
 
AI / Art
It's been ages since I've had a moment of wonder like I did this week when I played with RunwayML, using it to train a GAN to generate new images of French castles.  The only tricky parts were the dataset wrangling, of course, which means the collecting/downloading, resizing, format fixes, uploading and downloading and then uploading again... at the moment, you have to upload your image files off a local machine to train the GAN model with Runway. I had some issues with this (network maybe?) but when I asked on Twitter, I was told we may be able to use buckets or other remote locations in the future.

You have to pay for use of the training feature and for the compute time (it's not a lot if you're used to using online VMs via Google and Amazon cloud services); but using Runway to do this saved me a lot of time setting up the code on a server, getting the input data right, and then babysitting it while running.  I trained one castle model for about 6 hours, and then got a great set of options, including browsing a grid of related images in a z-vector (download any you like, save the vector itself), generating one of those videos of the photos morphing into each other that many people like, and downloading a set of image selections as a zip file.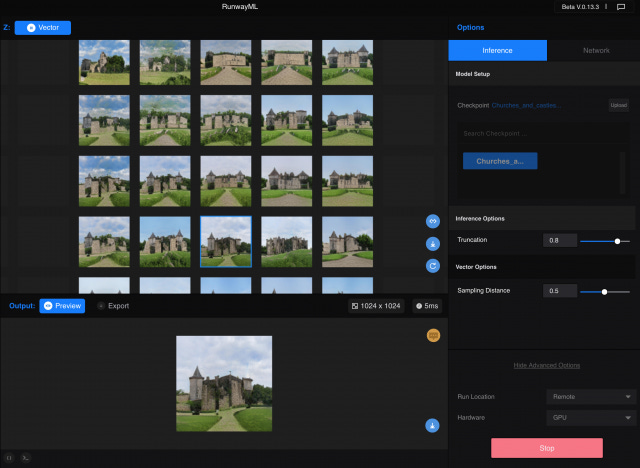 You can even turn your model into a REST API to query, hosted by you or Runway.  I tried Runway's hosting, and found that once the endpoint was "awake" the image results came back pretty fast.  (Not so fast for a GPT-2 medium text gen model, though.)  Conveniently, you can always train longer if you want, or export your checkpoint for use in your own code.  I uploaded it to the StyleGAN2 Colab notebook to look deeper and it worked just fine!  Check this variety.  I especially love the creepy ruins-in-trees genre.

I posted a few more on Twitter.
TV
I've been watching a ton of TV, some of it excellent.

A standout 6/5 stars rec is the science-fictional(ish) Leftovers.  The premise is that an apparently arbitrary fraction of the worlds population vanished in one moment, just disappeared, leaving behind no clues and no closure for their loved ones.  So the show is about the crazy extents of grief and guilt impacting the remaining families and society itself.  You've got a scary cult, weird dogs, ghosts, zealots and crooks, and a number of ongoing weird miracles.  It wanders as far as Australia and aboriginal myths in the final season. One episode was so emotionally intense that I had to put the show on hold for a bit... but when a friend on Twitter (POrg) said the finale had ruined him for future shows, I finished it.  And man, that last scene.  It delivers.

In eternal cop-show land, I really burned thru Line of Duty, a justifiably acclaimed British show about anti-corruption investigators.  Trust me, it is never what you think it is, the first few episodes into each season.  Excellent.

For unusual detective shows, Giri/Haji on Netflix was fantastic.  A Japanese cop comes to London to try to find his yakuza brother, soon followed by his rebellious daughter.  A gay prostitute and a London woman cop end up entangled with them and each other.   Superb.  I also liked the private detective duo Terriers, after a rec from Margaret Lyons in the NYT Watching newsletter (which I also rec).

Oh yeah, Devs!  Devs on Hulu was a fab sf-thriller.  Creepy, smug startup with a top secret dev team in the woods... doing quantum something.  The know-it-all dude in ep 1 is not the main character (if that blocks you like it almost did me); it's weird, paranoiac, science fictional, corporate icky, and awesome fun.

I'm watching S3 of Dark now, and while I've loved the prior 2 (especially s1), I feel I should warn you not to make the mistake I did and be sure to watch them without too much time between seasons.  It's complicated enough with all the time travel, different relationships, differently aged people, different worlds... I'm going to redo it all in one go sometime in the fall.  Maybe with a notepad beside me.  It's an absolute must for time-travel fans.
Books
I loved and am still thinking about Ta-Nehisi Coates's The Water Dancer.  There is a fantastical element here, but it's a thin thread in the book about slave life and escape near the end of the Confederacy.   It's a smart, emotional, thoughtful book with good characters and voices and you will feel like you are hearing real people.  I'm also reading and loving Octavia Butler's Kindred right now which has some similar themes, from a woman's viewpoint, much more overtly science fictional:  It's a time travel book, where the modern heroine suddenly finds herself back on the plantation where her ancestors lived as slaves.  Yikes.

Atwood's The Testaments really is a great read.  

In SF-sequel land, I loved the follow-up to Foundryside by Robert Jackson Bennet, Shorefall, which is much darker and heavier than the previous one.  Gods walking the earth, being very destructive!   The second Finder book by Suzanne Palmer, Driving the Deep, is super space opera: It takes place in the frozen ocean of Enceladus, which is pretty claustrophobic, it turns out.  The latest Murderbot book, Network Effect, was great fun.

For a summer-read best-seller, I enjoyed Where the Crawdads Sing, in which a little girl growing up abandoned in a swamp becomes something of a self-taught naturalist.  It features an iffy mystery and reasonable romance, but was heart-warming mostly because of her intellect.

For mystery fans: if you like Tana French's more magical books, Delores Redondo's The Invisible Guardian was really intriguing.  It takes place in the Basque countryside, full of witches and strange gods and wild people. The style or the translation were a bit odd, but I loved the folklore woven into the small-town murder. Unfortunately, the translated sequels aren't available in US Kindle sales, presumably due to some stupid rights issue.
Recipes
A couple standouts: this NYT Cooking Turmeric Black Pepper Chicken with Asparagus is easy and outstanding.  I've made it many, many times.  Likewise their Strawberry Spoon Cake, which I made with part almond meal when I turned it gluten-free.  I've also been making cherry clafoutis, of course, but that's just normal for the season.
Poem
maggie and milly and molly and may
went down to the beach(to play one day)
and maggie discovered a shell that sang
so sweetly she couldn't remember her troubles, and
milly befriended a stranded star
whose rays five languid fingers were;
and molly was chased by a horrible thing
which raced sideways while blowing bubbles:and
may came home with a smooth round stone
as small as a world and as large as alone.
For whatever we lose(like a you or a me)
it's always ourselves we find in the sea

-e.e. cummings

One more rec: I really like Laura Olin's short, pointed newsletter of good links.  She also does a poem and recipes (I swear I did it before reading hers). 

Do you have an opinion on whether I should do this more often, with less content, or keep it very infrequent with a big rollup of stuff?  I find I tend to like shorter newsletters.   You can reply directly, it gets forwarded!  Hope your summers have some good escapist reading and TV and beaches somewhere in them, eventually.

Best, Lynn / @arnicas