Things I Think Are Awesome #9: Weird Travel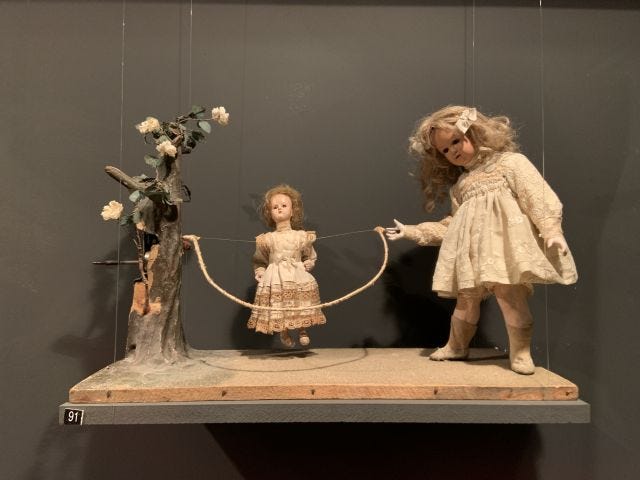 (Caption: Weird automaton of jump-roaping girls in Museum of Automata in Souillac, France.)
I had a couple discontinuous weeks of travel in France.  I spent one week in a rental cottage in the Ardèche region, which turns out to have perilously unpaved or teensy mountain roads; and another week driving through the Auvergne and northeast Dordogne regions.  One day it rained torrentially and I went to a museum instead of visiting cute towns.  I love local museums, which have strange diverse exhibits and often feature ethnographic detail you can't find elsewhere.  Here are some marionettes with faces carved from nuts, a local crop, in the museum in Brive-la-Gaillarde:

 
I apologize for sharing this terrible photo.  I thoroughly enjoyed my explorations, (most of) my attempts at the local foods and drink, and obviously the scenery.  You can find my touristy shots on Instagram (many, many perfect medieval villages! so many!).  I'm very aware of how lucky I am to be here and able to see the country, if not go anywhere else. 

Here's a few French utterances I had to look up during my travels:
If I order dessert, how long will it take to come? (Si je commande le dessert, combien de temps prendra-t-il?)

It was creepy. (C'était effrayante.)

The road here was very steep. (La route était très raide.)

I think a bat hit the window. (Je pense q'une chauve-souris a frappé la fenêtre.)

Manouls (balls of tripe from the Lozère, I advise to avoid!!)
AI / Art
Oskar Stålberg's Townscaper is lovely fun.  You just build cute little towns on islands, and that's it.  Oskar's a genius for the sweet details, including the birds that settle and fly away as you add or zap roofs, the "plop" water sounds, the gardens that spring up in enclosed spaces, the sweet benches and observations points and canal bridges...  For me it's a strong plus that there is no game play, it's just making stuff, with your imagination filling in the details.  People are doing fan art for it (more), making Minas Tirith's (so many), telling little stories about their cities (another one), augmenting the images with additions in Photoshop, finding real world places that inspire their building... It's getting rave associated press, too.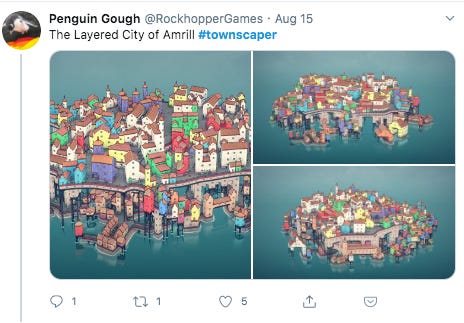 You want to watch "#Townscaper" on Twitter for fun examples.

In the category of funny AI bias glitches, I loved the news that Gigapixel AI Accidentally Added Ryan Gosling's Face to This Photo.  If you consider this a bug and not a feature, you have to turn off the "identify faces" checkbox to prevent it from imagining Ryan.  This story reminds me of the discovery that For Decades Cartographers Have Been Hiding Covert Illustrations Inside of Switzerland's Official Maps.  Like bored medieval monk marginalia, the glitches are better than the text itself.  We're getting those with AI products, too.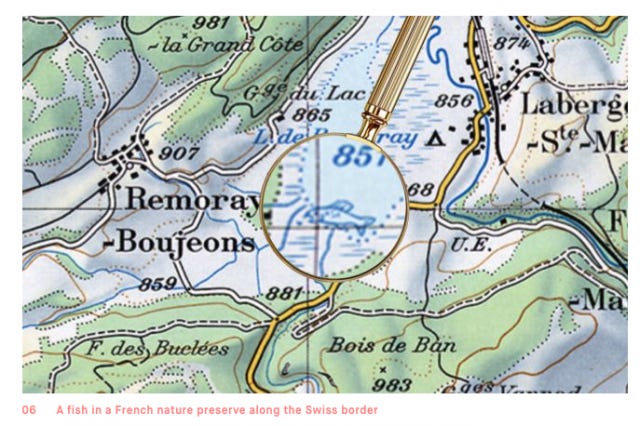 AI Dungeon has been updated with a paying tier that unlocks a GPT-3 engine (called "Dragon"). If you can figure out how to turn it on (it's a bit hidden in account settings), you too can try to mess with GPT-3 like all the cool invite-only kids.  I haven't produced any fantastic adventures with it myself, I admit.  I wouldn't say I love it more than the GPT-2 version?  I mention it because I do love telling myself stories with the engine helping, as I covered here before.

The photo at the top of this post is from the museum of automata in Souillac, which I found pretty freaky (you can find more of it on my Instagram).  They've got little robots doing lots of things, like magic tricks, playing music, just laughing (one of the creepiest); there's a nun bot shaking a child bot, acrobats, bears playing games, and a snake charmer like Bladerunner's except obviously not as smart.  It reminded me of how a very little intelligence and just a bit of mechanical mimicry were once so compelling, and maybe still are.
 
Books
Mysteries

I mentioned Delores Redondo's Baztán trilogy of Basque-witchcraft murder mysteries last issue; well, I thoroughly enjoyed the last 2 in the series, Legacy of Bones and Offering to the Storm. I sped up my effort to acquire them (despite international rights issues) when I noticed they had been made into movies on Netflix. I am also enjoying the movies; they're elided but quite faithful, featuring terrific moody Basque scenery.  (The judge is hotter in the books though.)
 
SF & F

Harrow the Ninth was an un-put-downable vacation read, although I read it all muttering "wtf is going on."  It's pretty complex and ambitious, but she plots like a mystery writer, which is fun.  Do read Gideon the Ninth first, which I wholehearedly loved.

Other good vacation reads: I finished the Collapsing Empire series by John Scalzi, which were great. Lots more politicking and backstabbing than space battles, but a few of those, and also a great couple of AI characters.  Thumbs up for vacay, swift-moving and funny and snide.

The Book of Koli, a post-apocalyptic tale by MR Carey, also has some good AI fun. Enjoyable, but part 1 of a new series.
 
Stories
I don't usually read short stories, because I like long-immersion experiences, but this article on Lithub made me get We Others, a collection of Steven Millhauser's stories.  In particular, this sentence: "That said, you should totally also buy We Others--the story about a guy in a trench coat going around slapping people is worth the price of admission on its own."  Well, readers, it was.  I'm partway thru the collection and it's astounding if you like weird, wonderful, and exceptional prose.
TV
I've been looking for exotic-locales TV recently, for obvious reasons. Why isn't this a search parameter on Netflix?  Luckily there is a lot of European TV available right now on streaming platforms.

Warrior Nun on Netflix has been my favorite summer escape so far.  Any fan of Buffy would like this series about a reluctant addition to a ninja nun group fighting demons and the Vatican.  It sounds so dumb, but it's great.  Good Spanish scenery, too.

The Frozen Dead is a French mystery set in the Pyrénées mountains in the winter (Netflix).  It's got a Hannibal-Lector trope going on, minus cannibalism, with a smart bad dude smugly orchestrating things from a cell in a Gothic nuthouse.  (This isn't a spoiler.)

The Hidden, a Welsh series (2 seasons), is very grim but compulsive, one of those series where you know who did it and you're waiting for how they get their come-uppance.  Fab moody Welsh scenery and lots of Welsh dialogue (subtitled). 

I'm partway thru 2 excellent French series: Spiral (Engrenages), and The Bureau (Bureau des Légendes).  The latter is one of the best spy series I've ever seen.  I mean, it's superb.  The former is a detective-lawyer ensemble show spanning many seasons with some very imperfect characters.
 
Poem Beginning With a Retweet

If you drive past horses and don't say horses
you're a psychopath. If you see an airplane
but don't point it out. A rainbow,
a cardinal, a butterfly. If you don't
whisper-shout albino squirrel! Deer!
Red fox! If you hear a woodpecker
and don't shush everyone around you
into silence. If you find an unbroken
sand dollar in a tide pool. If you see
a dorsal fin breaking the water.
If you see the moon and don't say
oh my god look at the moon. If you smell
smoke and don't search for fire.
If you feel yourself receding, receding,
and don't tell anyone until you're gone.

--Maggie Smith


Like Austin Kleon's excellent newsletter, this newsletter is free but not cheap.  If I haven't heard from you and you like it, reply and tell me? I'm thinking once a month makes sense as a scheduling goal. I hope you're all hanging in there and finding a few things awesome this summer, despite it still being 2020.

Lynn